De-metalized Hologram Application
De-metalized hologram is also called optical etching, is one of many security hologram techniques. It can eliminate a thing which you don't want to appear in the optical image and keep the part what you want. Sophisticated process made it difficult to forge.
Technically speaking, It can wash the part which you don't want to appear. So technician must be very careful when coat protective glue in case of washing the part you want to reveal. Otherwise you have to do it all over again. At present, Suzhou Image Laser can reach 0.2mm in thinness. Only few enterprise can realize this security level all around the world.
De-metalized Security Hologram Presentations: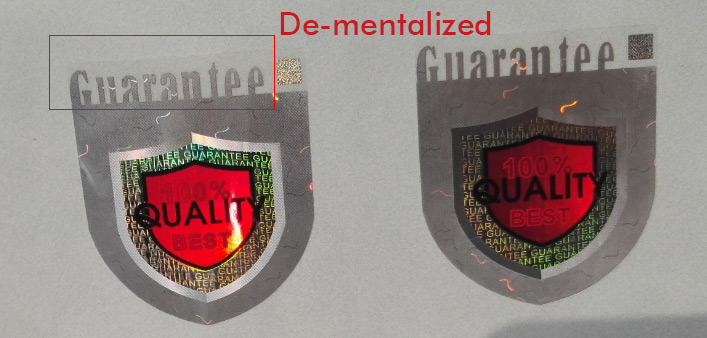 Optical etching technology can be seen in many security hologram stickers products. Please have a look at the below pictures. You will notice that the part which be de-metalized present transparent effect to satisfy special requirements in design. Combining with product package wonderfully to make it more unique & elegant. Of course, it has the strong an-fake function to prevent counterfeiters from counterfeiting.
More De-metalized Hologram Stickers Presentations: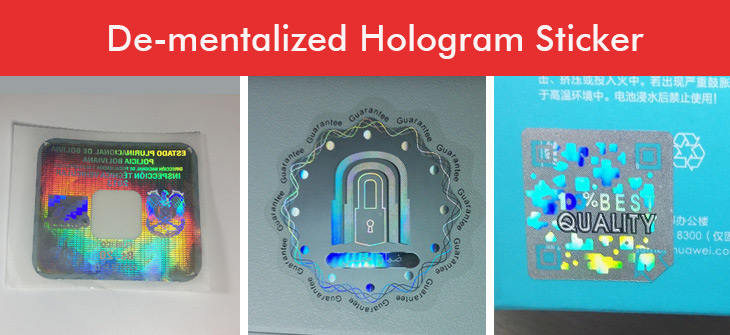 If you are interested in our de-metalized hologram products, welcome to send your inquiry. Our company is professional and experienced in R & D and production of security hologram projects.
We have established our own design team to provide free design and cooperate with more than 100+ governmental projects like 2008 Beijing Olympic Games, 2018 Pyeongchang Winter Olympics, 2018 Argentina G20 Projects. Suzhou Image Laser is professional in security solution and design.
---
Previous Article:【 Security Hologram Technology】Flip-flop
The Next Article: 【Amazing Application of Self Adhesive Tear Tapes】